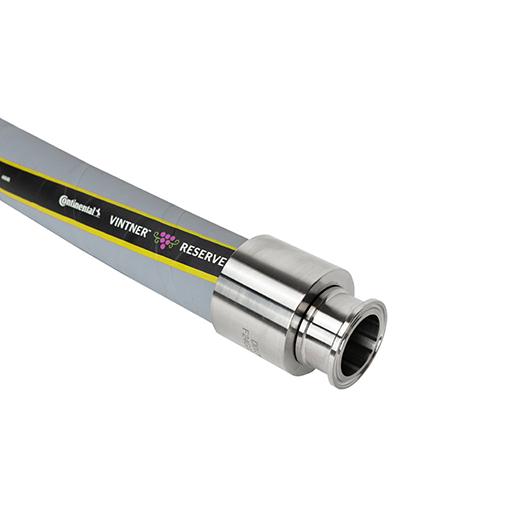 Continental Vintner Reserve EPDM Hose Assembly designed for beer transfer applications. This brewers hose is built to last and perform to the demands of your brewery. It is the ideal hose for brewers who are after a consistent beer taste due to its odor and taste-neutral lining, which is also found in the Purple Snake Hose.
Each hose is custom-made to meet your needs. The fittings can be either hydraulically crimped or banded on. Simply choose the inside diameter size of your hose, the overall length in feet, and how you would like for your fittings to be attached - we take care of the rest. 
Applications
The Vintner Reserve EPDM is primarily for liquid transfer. is primarily for liquid transfer. For handling in-plant and/or tank truck transfer of wine, beer, potable water and other non-oily liquid foodstuffs. The monofilament helix is rustproof and is a crush-resistant alternative to traditional softwall or steel wire reinforced hoses
Specifications
EPDM Rubber; Meets FDA, USDA & 3-A Sanitary Standard 18-03 Certificate #3737

EPDM Synthetic Rubber (Wrapped Impression)

Spiral-plied Fabrics with Monofilament Helix

-30°F to 220°F (- 34°C to 104°C)

Pressure Rating: 250 PSI
BreweryHoseSupply.com is a listed supplier and member of the Brewers Association.
Most orders ship within 2 biz/days from South Carolina
Free shipping on orders over $2500 | Low rates on others
Easy to use website makes shopping for hose an easy task
We look forward to earning your business